A CONTEMPORARY SUSSEX VILLAGE GARDEN
This newly completed contemporary Sussex village garden has turned a relatively small space, originally overshadowed by high leylandii hedges, and with a dark, narrow terrace that flooded, into a spacious garden for strolling and entertaining.
Set within a large village, the garden for this modern house was so impractical and uninviting that it had never been used. The garden design has made full use of the space, creating a large water terrace with beautiful modern summerhouse designed by Morton Scarr architects, allowing for multiple sitting areas according to sun or mood, with good flow around the space and beautiful planting.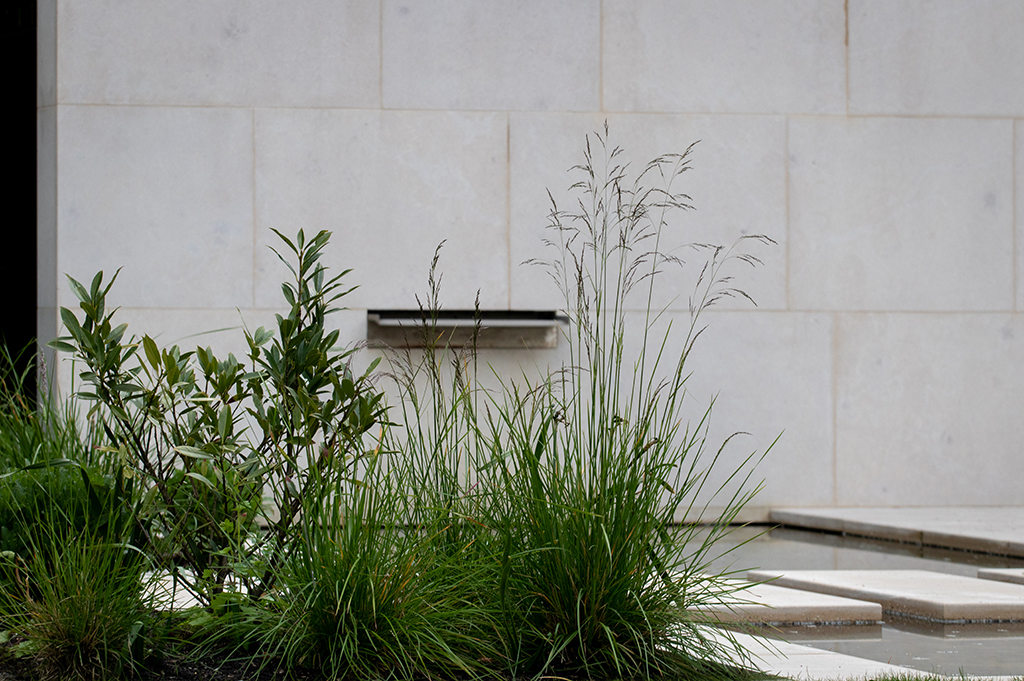 MODERN SUMMERHOUSE
Two new terraces were created, one in the shadier location by the house, and one adjoining a modern summerhouse with retractable doors and a fully flush threshold that doubles the terrace size when open. This terrace appears to float over a shallow pebble-filled pond and is reached by a bridge on one side and stepping stones over the water on the other. From here, a series of paths lead around the garden offering different moods and vistas, while the layers created through planting, walls and pergolas makes the garden feel very much larger than before.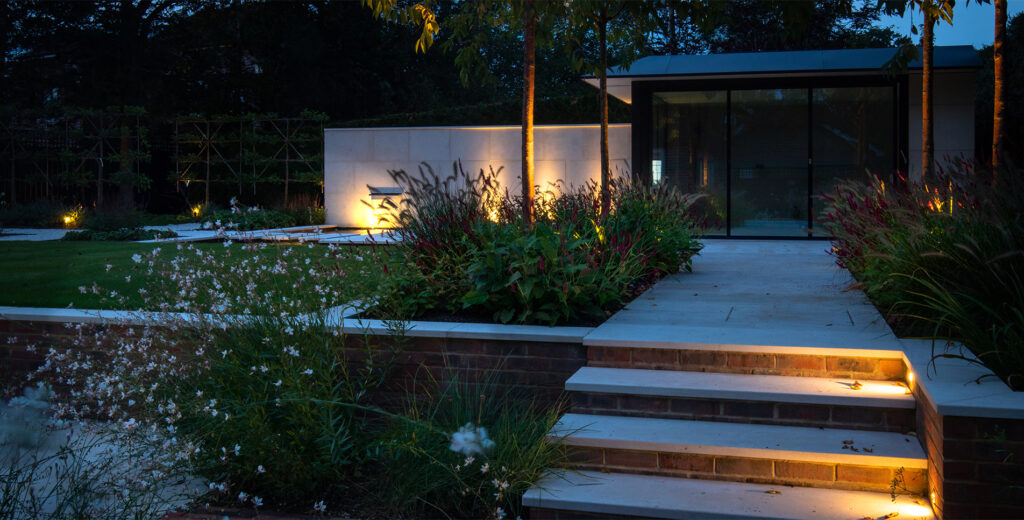 BEAUTIFUL PLANTING
The garden now offers a series of walks and vistas, with beautiful planting highlighting the different aspects and moods. The main 'long' path to the modern summerhouse is flanked by a short avenue of Prunus maackii which has gleaming red-coloured bark and which complements the warm colour palette of these beds. Large blocks of evergreen Nandina and ornamental grasses give winter interest, while seasonal highlights include massed tulips in shades of red followed by long-flowering perennials that keep the borders full of interest throughout the year.
Elements of these beds are repeated in the shady side of the garden to give unity throughout, with blocks of Sarcococca and black-stemmed dogwoods giving structural interest and seasonal variation. Large drifts of shade-loving ornamental grasses and perennials provide a constantly changing scene, and espalier apples form living enclosures with exquisite blossom and fruit.