A SOPHISTICATED SUSSEX VILLAGE GARDEN
This newly completed garden has turned a relatively small space that was overshadowed by high hedges, and with a dark, narrow terrace that flooded, into a spacious garden for strolling and entertaining.
Set within a large village setting, the garden for this modern house was so impractical that it had never been used.
MODERN SUMMERHOUSE
Two new terraces were created, one in the shadier location by the house, and one adjoining a contemporary summerhouse with retractable doors and a fully flush threshold that doubles the terrace size when these are open. This terrace appears to float over a shallow pebble-filled pond and is reached by a bridge or stepping stones over the water. From here, a series of paths lead around the garden offering different moods and vistas, while the layers created through planting, walls and pergolas makes the garden feel very much larger than before.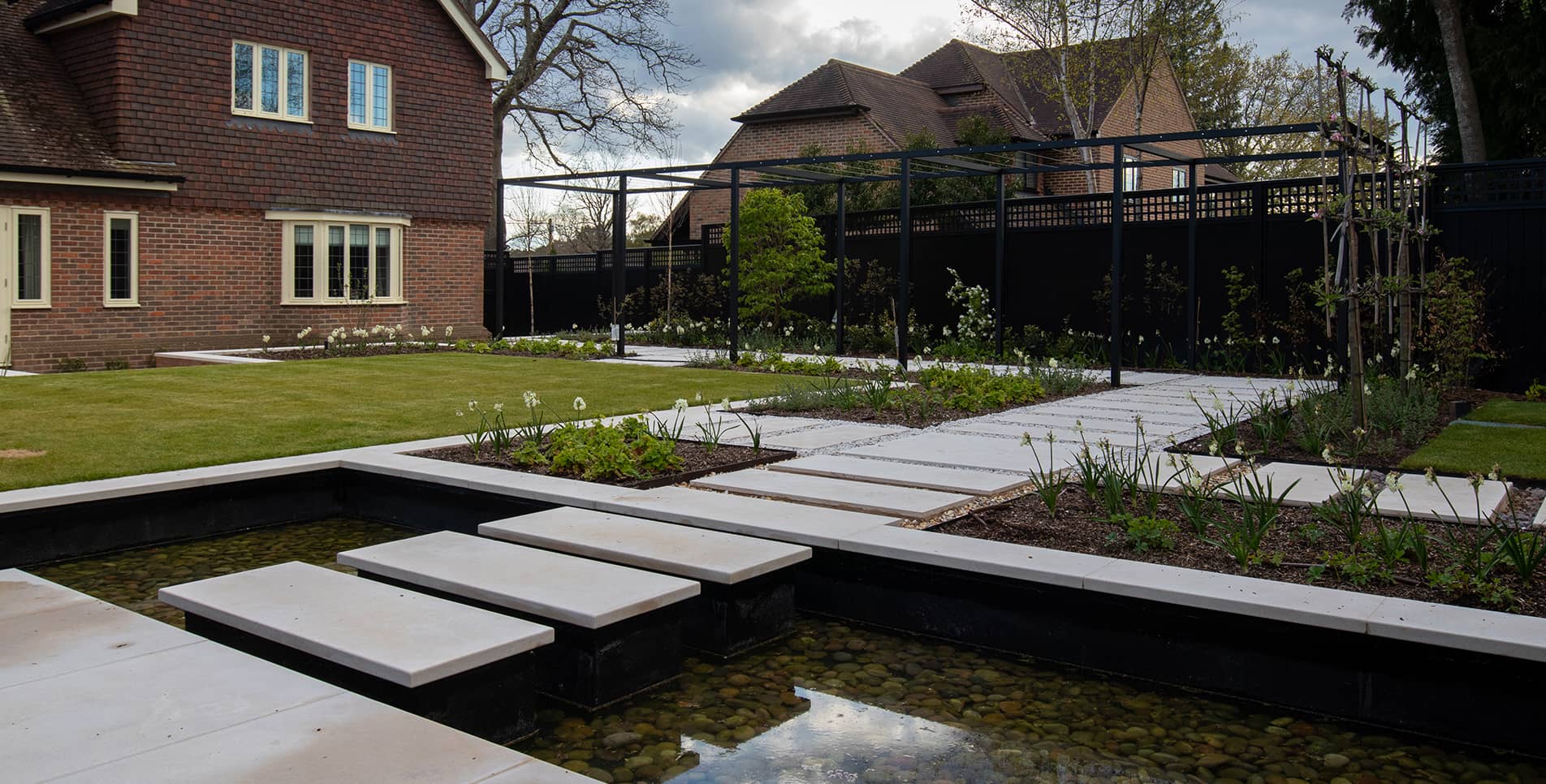 RESIN BOUND DRIVEWAY
The original layout of the entrance to the house meant that cars intuitively parked outside the front door – not very pretty to look at from inside and obscuring that important first impression of the house itself. Tired concrete block pavers encouraged weeds and were never going to give the house the context it deserved. The new design realigns the driveway so that visitors are now 'directed' to park to the side of the garage, leaving the vista to the house clear of traffic. A permeable resin bound driveway complies with all current laws regarding drainage while being a smart, maintenance-free option. A modern parterre created from clipped yew planted with lavender will, over time, create a bold structural but low maintenance feature to enhance the entrance to the house.