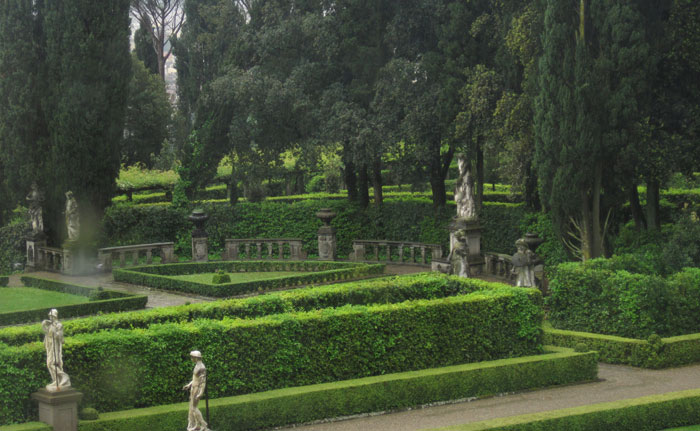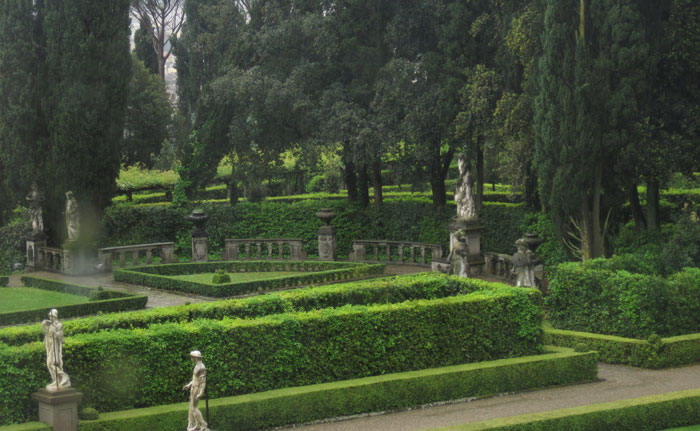 I've recently come back from planning and guiding a tour of Tuscan gardens for the Emerita First Lady of Ohio Hope Taft and her fundraising group for the Ohio Heritage Garden, which she created at the Governor's Residence while in office. This is the third tour that I've planned for this group; the first being in England, in the Cotswolds, and the second in Provence.
Before I get further, you might like to know that I WILL BE RUNNING A 6-DAY VERSIOIN OF THIS TUSCANY GARDENS TOUR NEXT APRIL, from Friday 24th for 5 nights, based in a beautiful hotel overlooking Florence – please email if you are interested in finding out more and I can let you have some details. This separate arm of my business, Amanda Patton Garden Tours, meets all requirements of the 1992 Package Travel Regulations and you can rest assured that I am fully insured with dedicated travel agency insurance.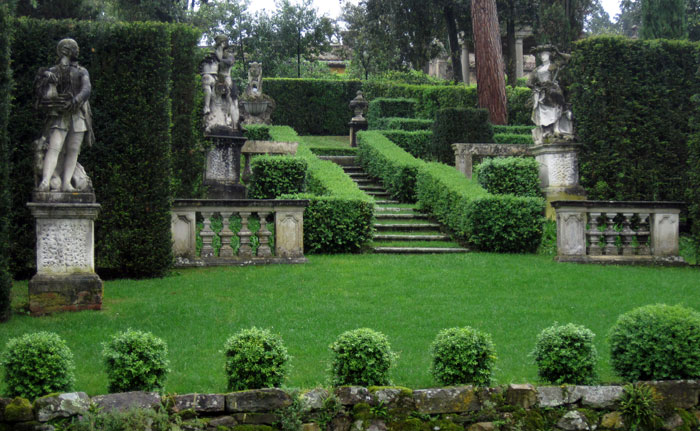 As well as some amazing gardens, the tour also featured gastronomic treats, from sampling the 'no 1 olive oil in the world 2014' to trying a variety of local specialities and home grown produce and eating in some truly beautiful and memorable places. I overheard Hope Taft telling one of the group members, who was enthusing about the tour, "well, once you've been on an Amanda Patton tour you don't want to go on anybody else's!"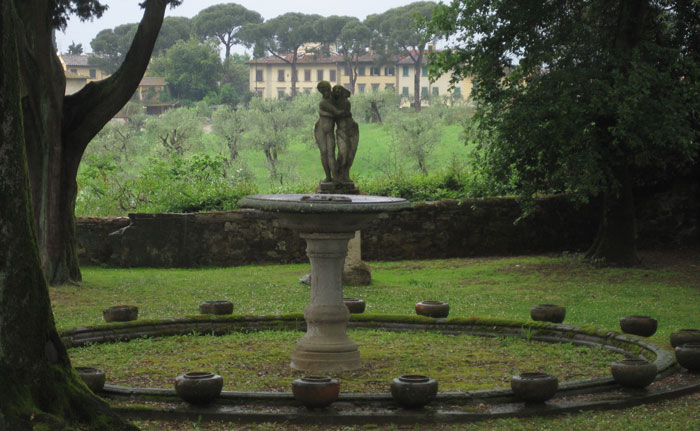 I had some lovely comments from some of the other guests as well – they presented me with a book that they'd all written in at our farewell dinner and I was incredibly touched! The lovely Shirley and Ned said, "Amanda, we appreciate your attention to detail in planning a very magnificent tour of Tuscany. Your excitement about nature, your skill in design and your people skills all came togehter so well – thanks!" (I didn't even pay him!!)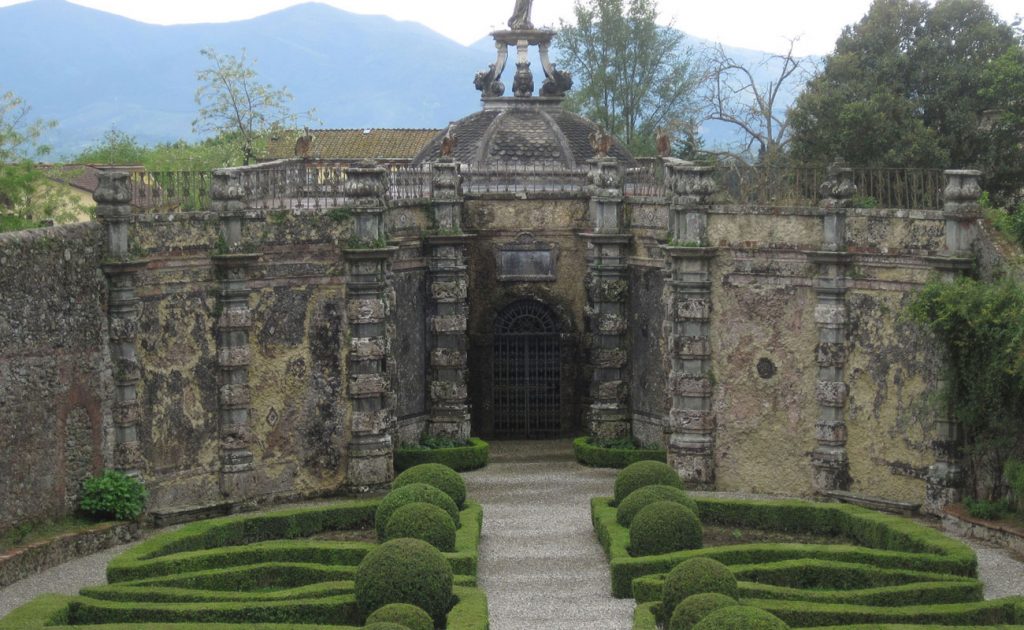 As well as exploring all the contexts of the gardens, I also believe in having a lot of fun, like sneaking a very sticky picnic under this wall, above, as we had taken our pudding with us from lunch. To be fair, I had thought it was cake, so was a little surprised to find it was syrupy baked fruit, very delicious but not really picnic material – but at least there were fountains further up to rinse off in!
And the quality of the gardens we visited is truly sensational; the grotto of the Boboli gardens (above) is worth the entrance fee alone, and of course there are magnificent views over Florence to be had from here.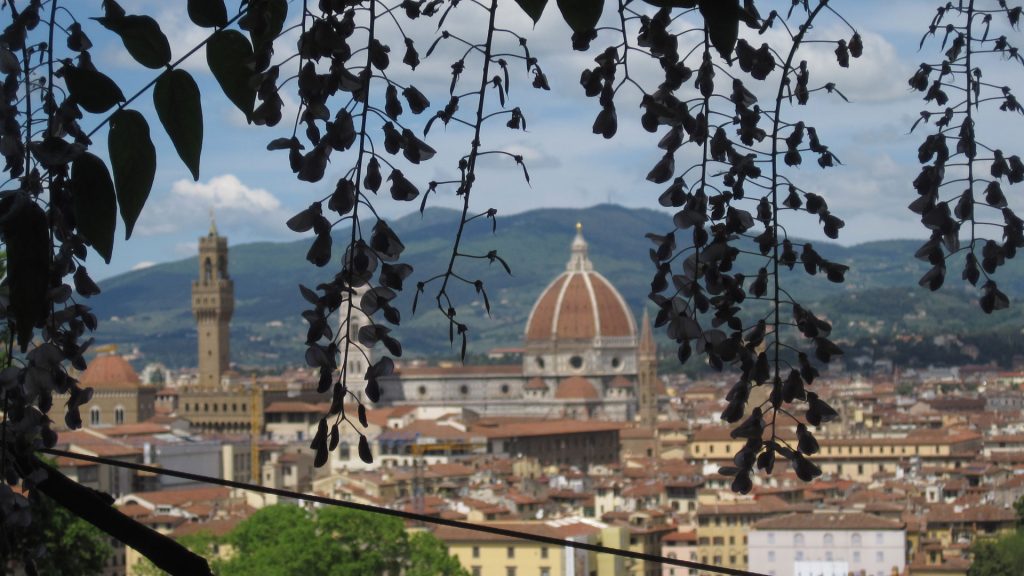 But what makes a tour of Tuscan gardens so magical is that as well as the grand spaces, there are so many quiet, intimate and private spaces to see, full of all the passion, loves and intrigues of their makers, whether that's the political manoevering of various of the Medici in their quest for power or philosopher Charles Strong's attempt at rehabilitation after the tragic death of his wife.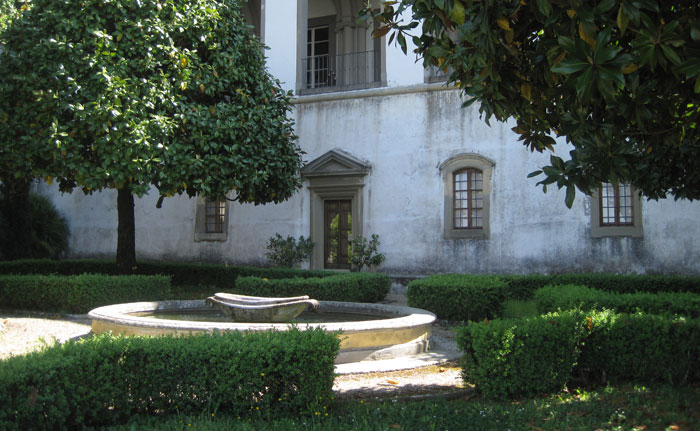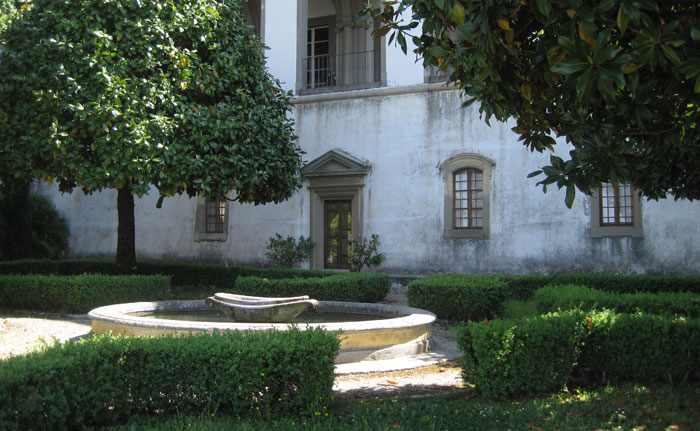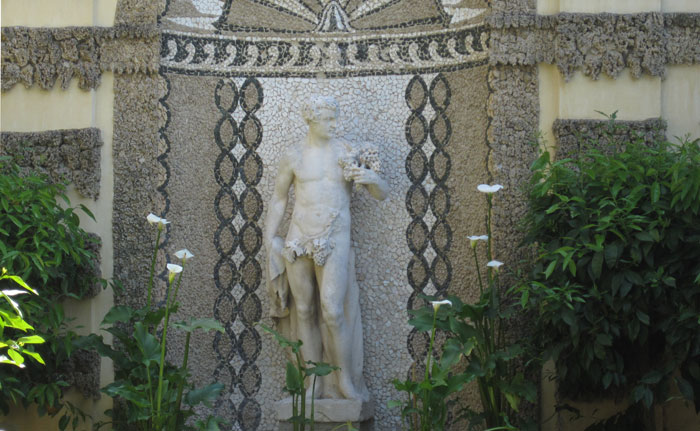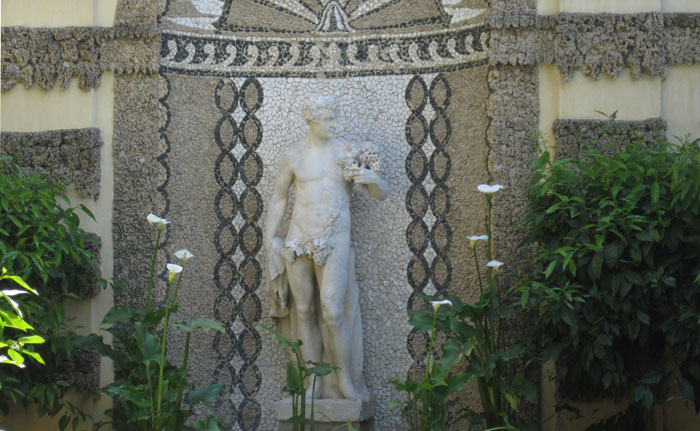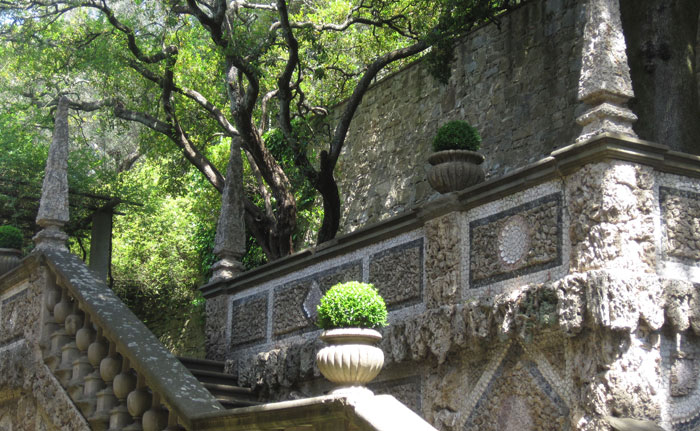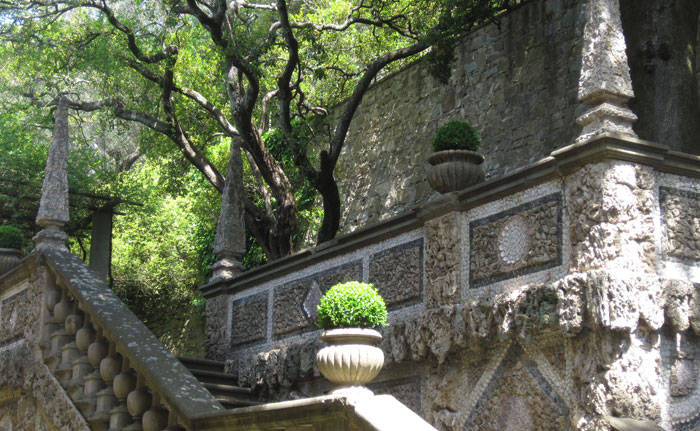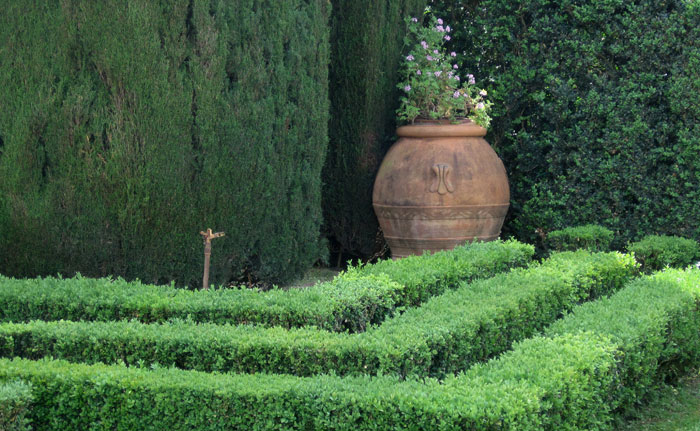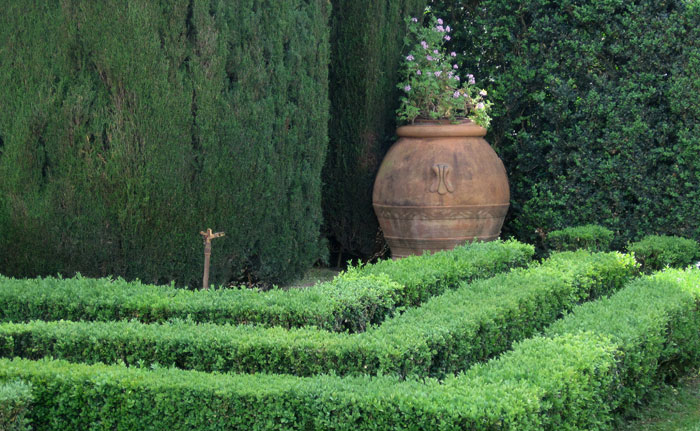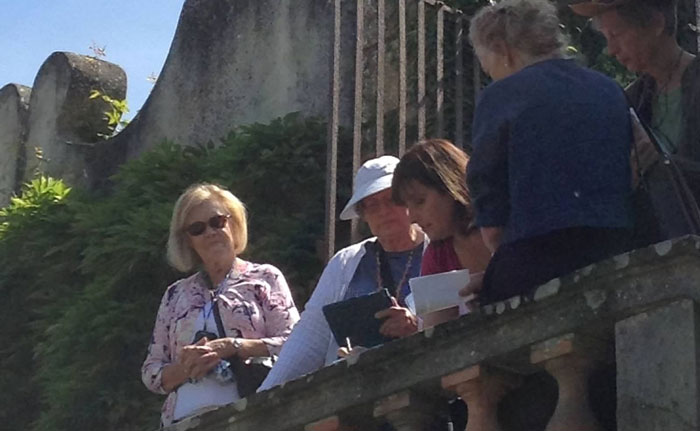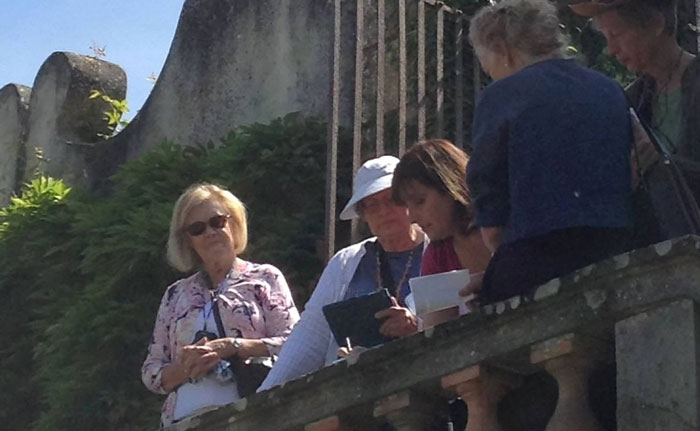 And this is me doing an impromptu redesign of the rose garden at the Villa Capponi, explaining why, since they removed the diseased roses, it no longer works as a garden space, and demonstrating an alternative – I think Cecil Pinsent would have approved!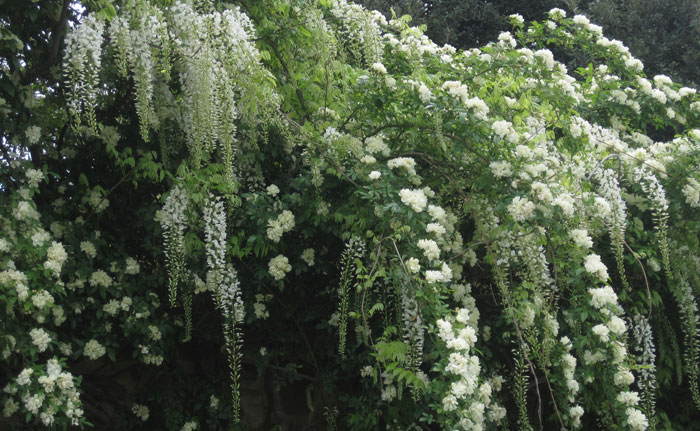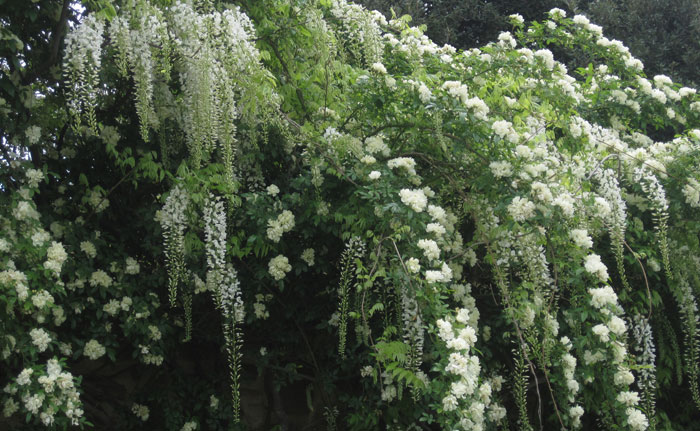 Tuscany in early May also boasts some beautiful flowers such as the combination of banksia roses with white wisteria in a private garden in Montisi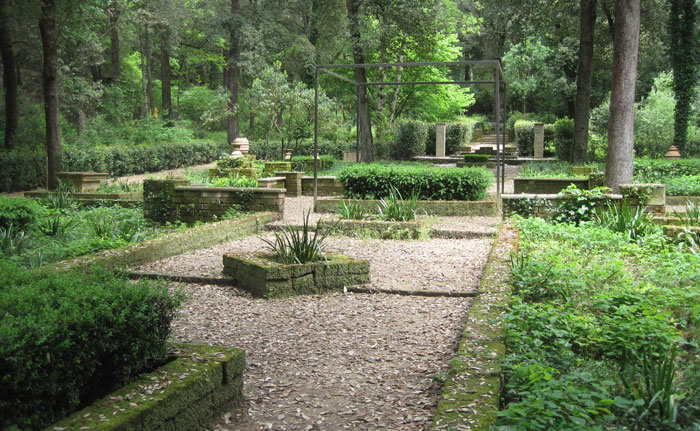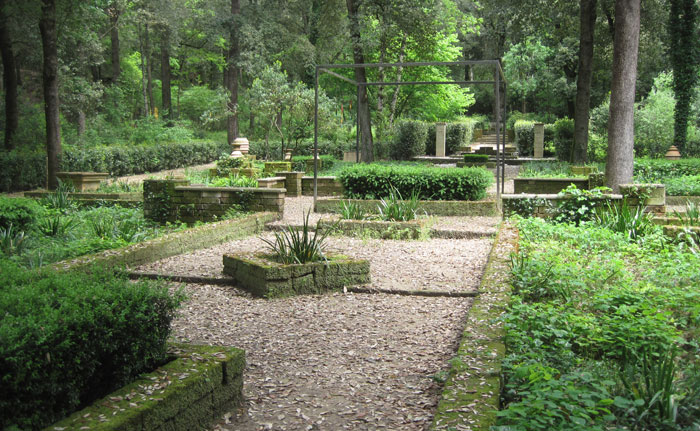 One of the most intruiging gardens we visited was Sheppard Craige's woodland fantasy – totally hidden until you're close; it's like entering a dream world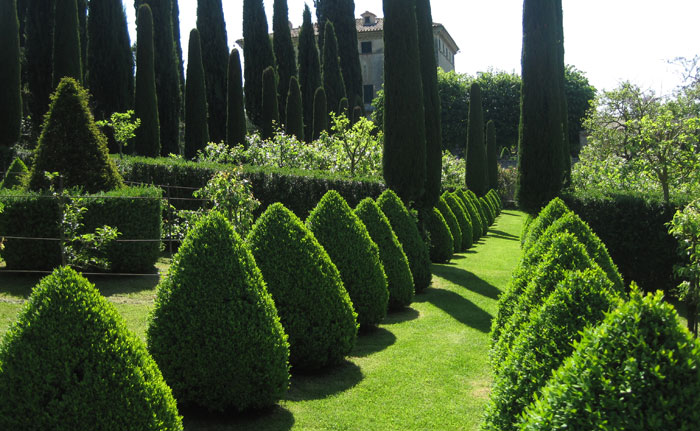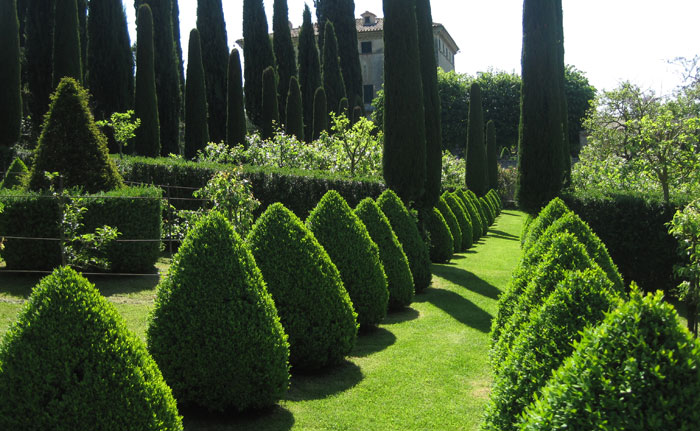 While the orchard in what has been described as 'the most beautiful villa in Tuscany' has a stunning formality for a traditionally informal area and demonstrates how clipped green structure is so effective in a garden space.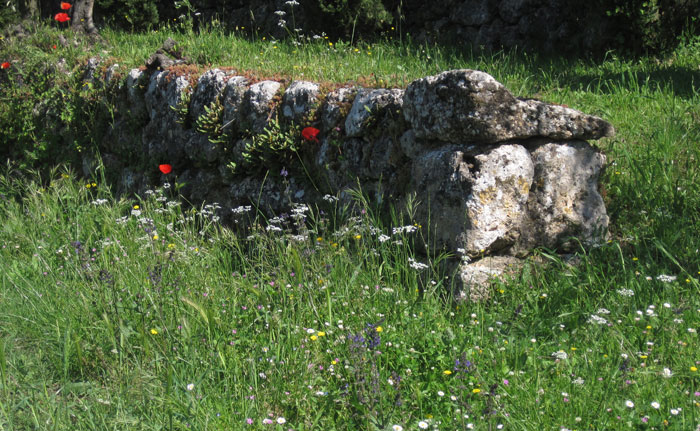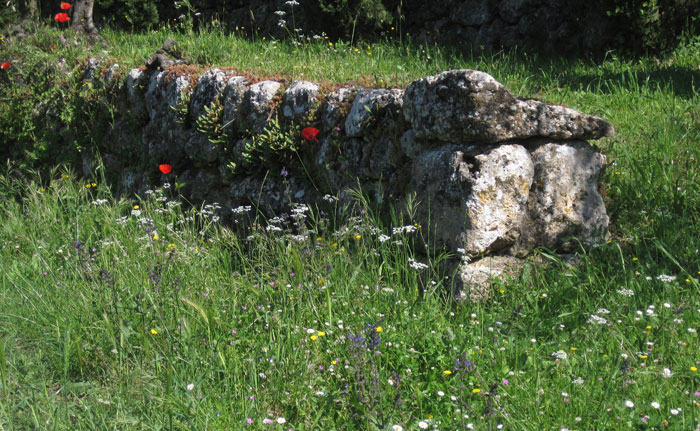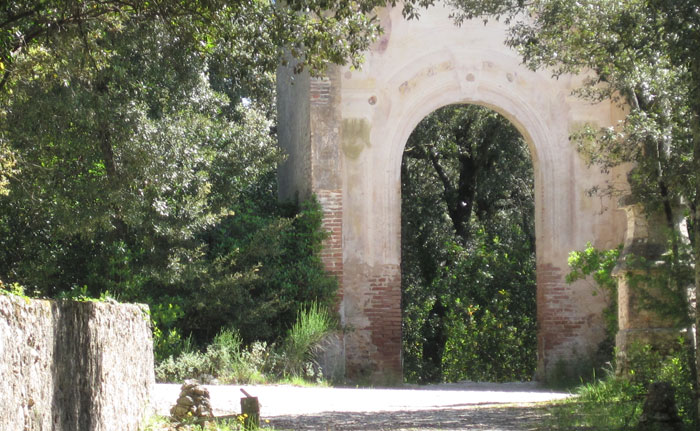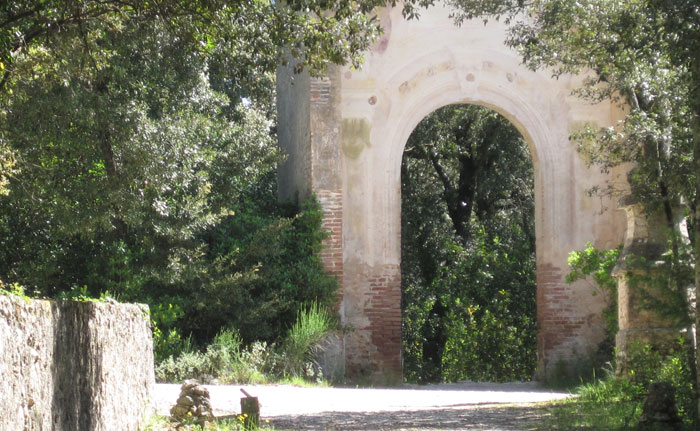 Not bad for a woodland walk?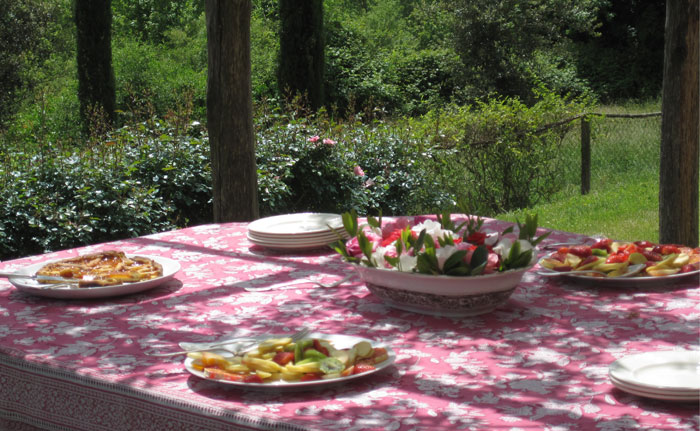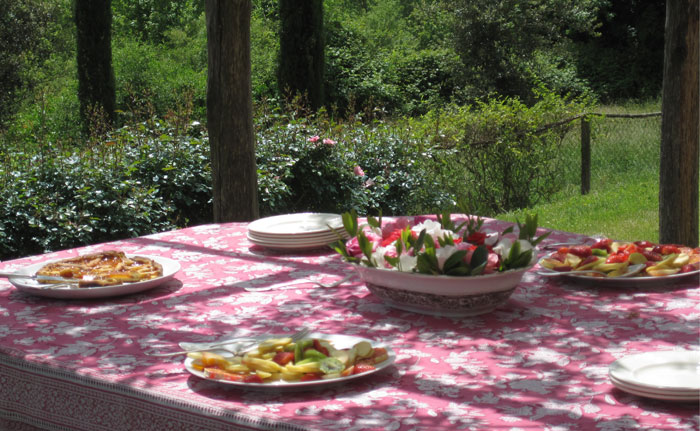 And how's this for a delightful lunch – in the shade of a rose pergola.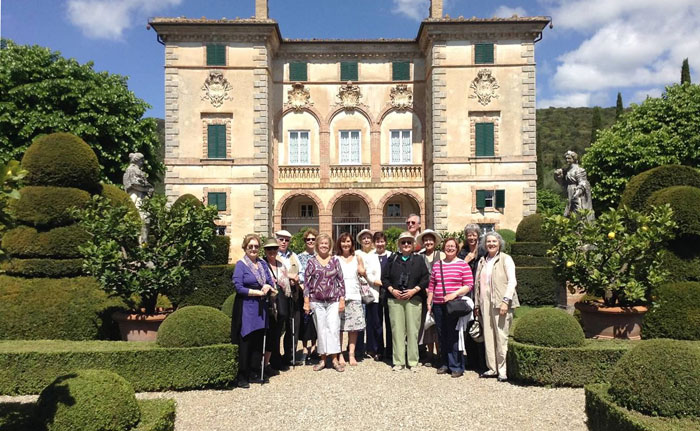 Group photo!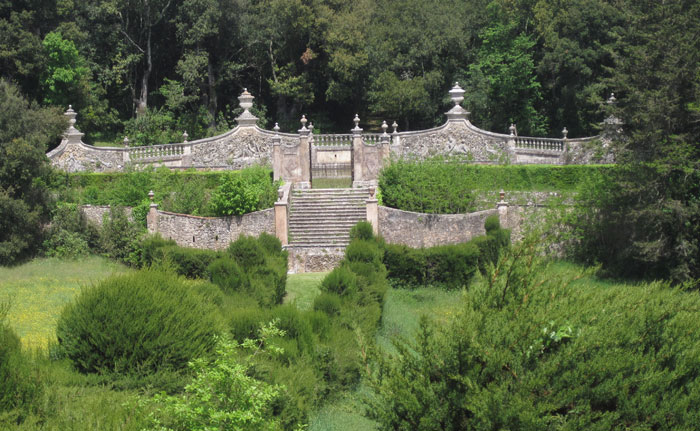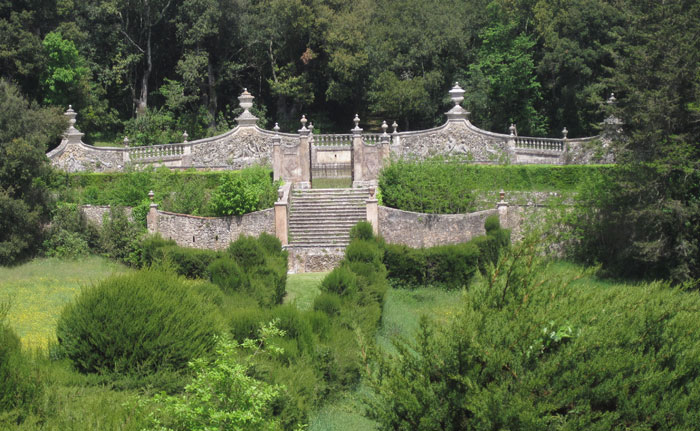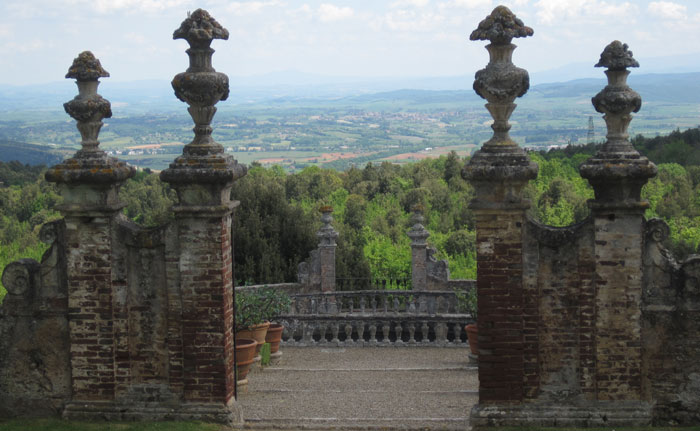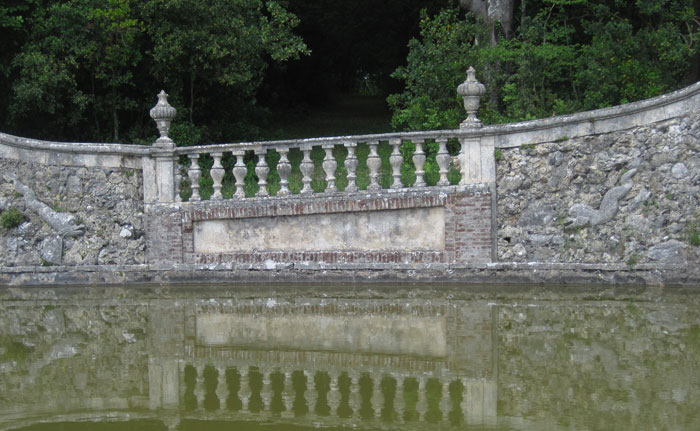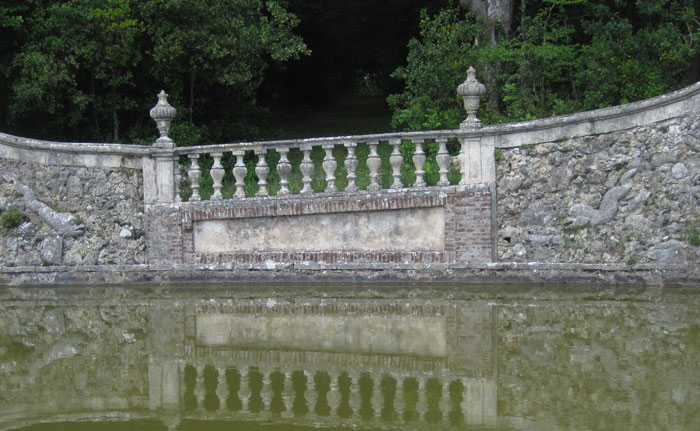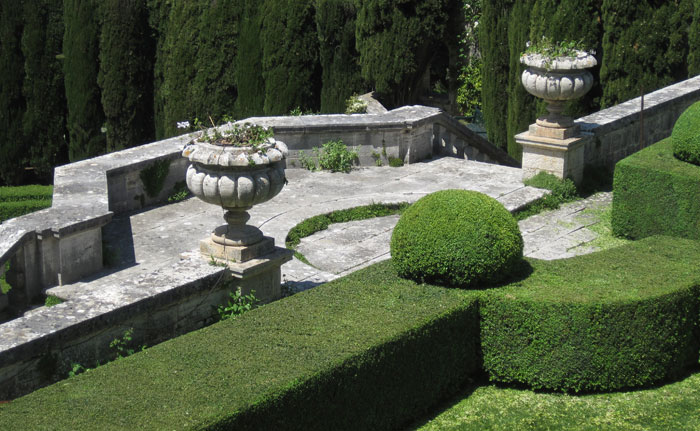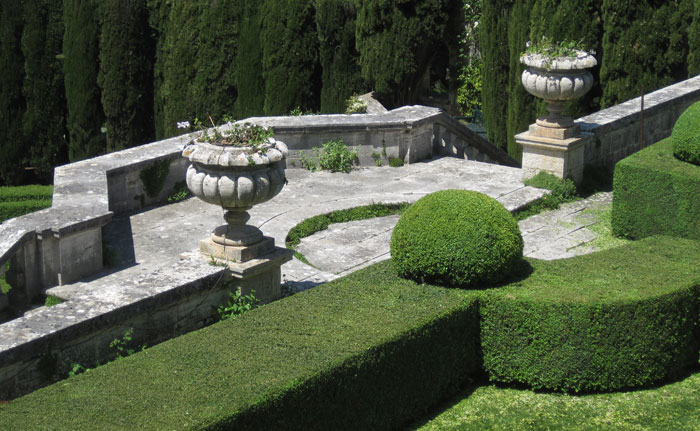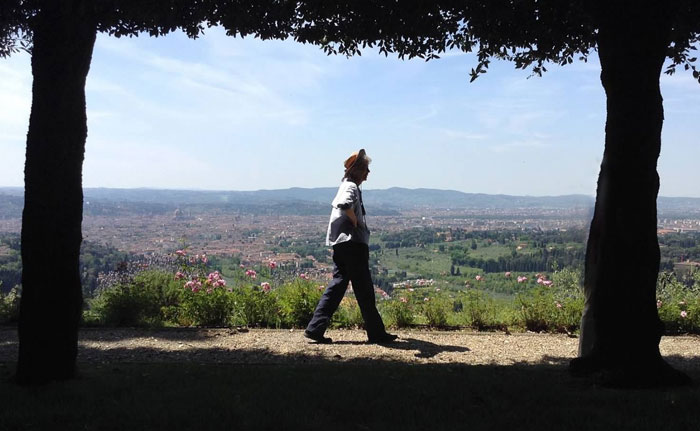 Hope Taft, Emerita First Lady of Ohio, epitomising the good life in Tuscany.