For many years I've admired a very pretty thatched cottage that's on a small lane I occasionally use, so was particularly delighted when the new owners asked me to look at the garden for them! I think they were quite pleased that I not only knew their house but (in the nicest possible way) have coveted it for some time.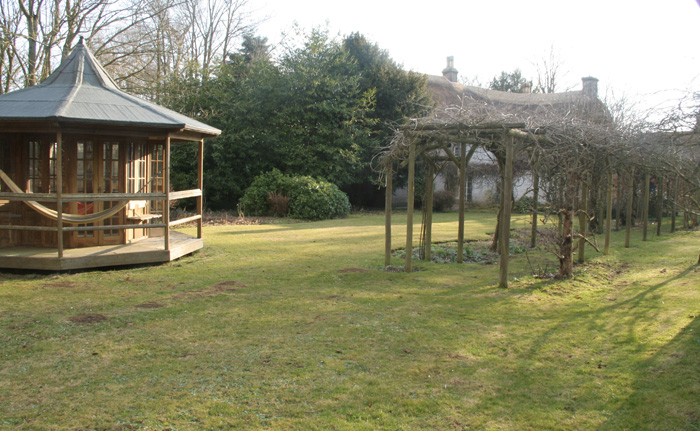 The main part of the garden is behind the house so this was new to me. As you can see, there was an existing pergola (gorgeous with wisteria in spring) that started – well, nowhere specific and led to – well, nowhere! Along one length was a wiggly-edged flower border and at the far end was one of the most interesting structures I've come across in a garden! A rotating summerhouse that's seen better days and that initially was to be removed but has grown on my clients over this summer and so has had a reprieve.
However, all these features desperately needed grounding, or at the very least, a reason for being there.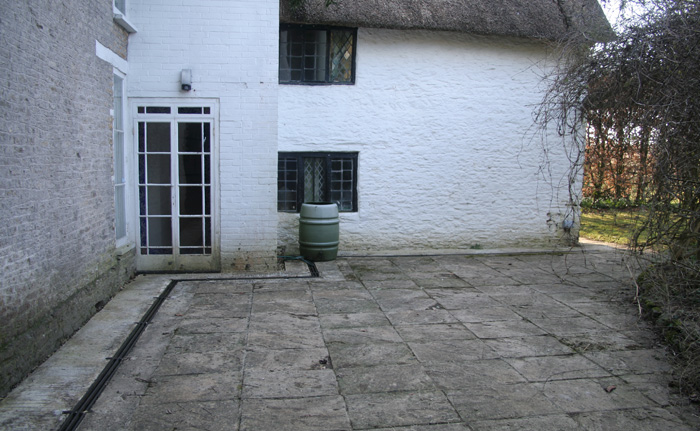 The other main area of the garden that needed help is this dark and gloomy terrace which is the main way into the garden from the house. Not inspiring, is it? It certainly wouldn't encourage me outside! I know many people think of shady areas as a problem in the garden, but handled well I find them some of the most interesting spaces. With sensitive design of the ground surface to introduce some texture and light, and emphasis on foliage rather than flowers, you can create combinations that are ultimately more satisfying (not that this won't contain any flowers – just that they're a bonus rather than the main deal).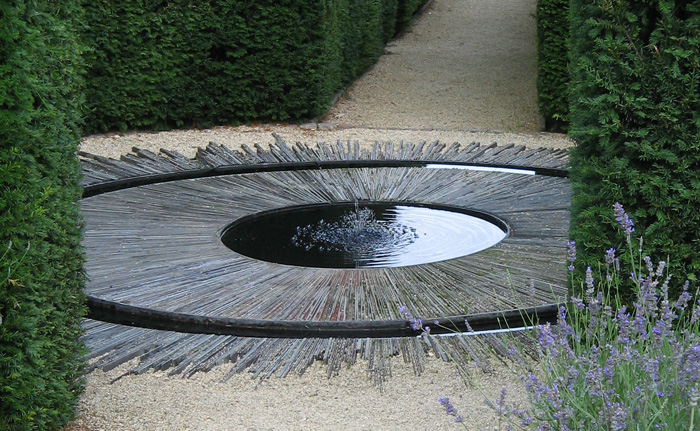 I'm also going to introduce some water – just look how much light it brings into this shady path (above, this is at Througham Court) and how the eye is immediately drawn to it. It keeps the focus within the space and creates an intimate, almost secret atmosphere.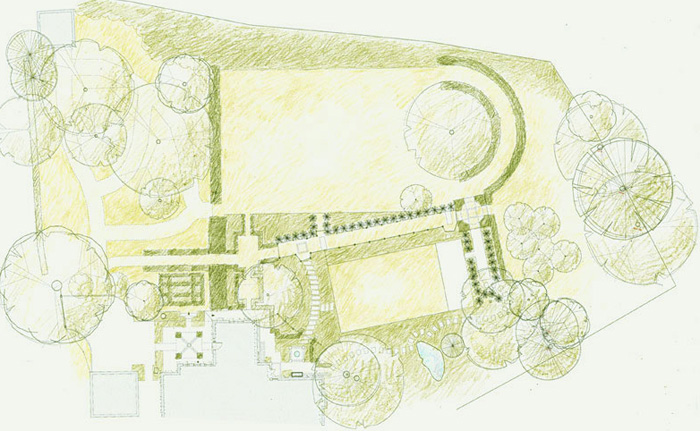 The design that I have come up with uses a limited palette of materials and lots of repetition to create some unity in the garden. Simple patterns of stone setts, set within a chippings surface, are offset with clipped box (cubes and hedges) that will contain a froth of country plantings including foxgloves, cow parsley, red campion and ornamental grasses. While the shapes may be traditional, creating a series of open spaces, walks and vistas, the planting will keep the garden feeling fresh and contemporary – a little like this Tom Stuart Smith Chelsea garden from 2004 (below).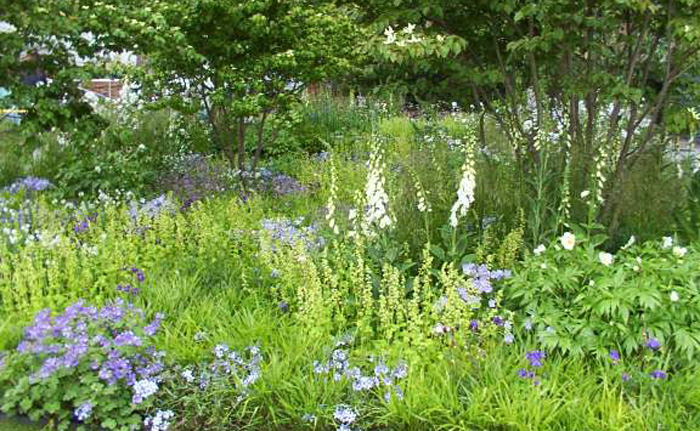 The summerhouse will be grounded in a sea of Deschampsia grasses (if one can ground in sea) and that pergola will finally be given a beginning, a middle and an end.