Anyone who might think that gardens develop too slowly, or last too long, to be affected by the vagaries of fashion need only visit the Chelsea Flower Show for a few consecutive years to realise just how much these gardens both set and reflect the trends of our times.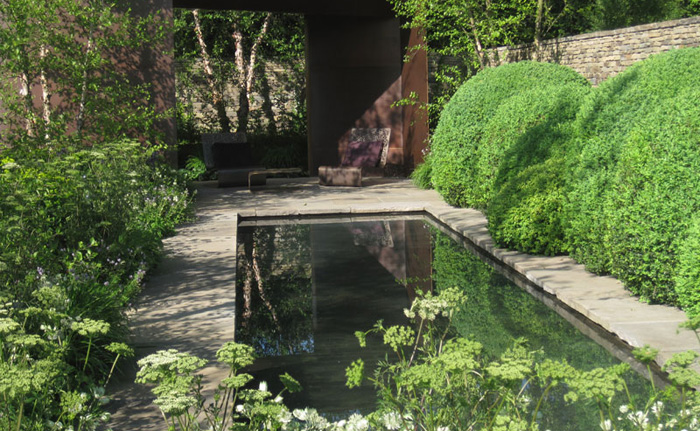 A few years ago, the gardens were brash and colourful; in your face, confident, transient. Over the last few years, as recession bites and a deeper ecological conscience has emerged, these gardens have reflected our changing mood. We have seen less colour and more permanent planting (trees and evergreen shrubs over perennial fluffiness). Tom Stuart Smith (Laurent Perrier garden, above and below) has created a calm, elegant space, using limited materials and a colour palette of green with soft white. We've seen gardens like this from Tom before, but he does it very, very well.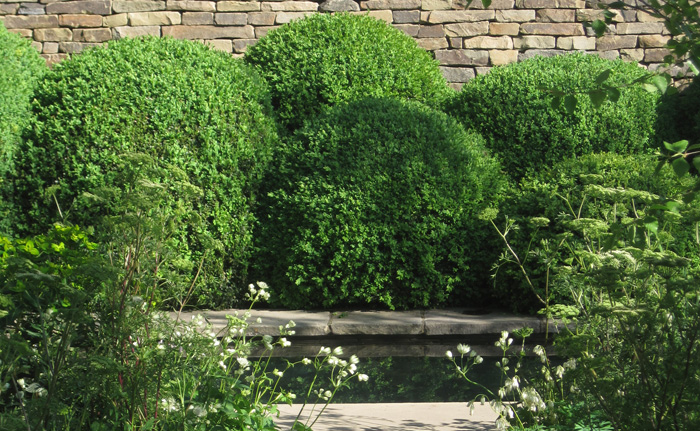 This year, what I really noticed was how many of the gardens are enclosed – even from visitors. It's as if we need not just introspection but also nurturing – a collective nesting instinct where a garden provides us with a safe haven. In some gardens this has been done by creating physical barriers (Andy Sturgeon's corten steel columns); but in most it has been through planting – Tom Stuart Smith's high and deep cloud-pruned box hedges, Mark Gregory's shrub planting (which included a very beautifulViburnum plicatum Mareisii), and even the exotic planting framing the Malaysian garden.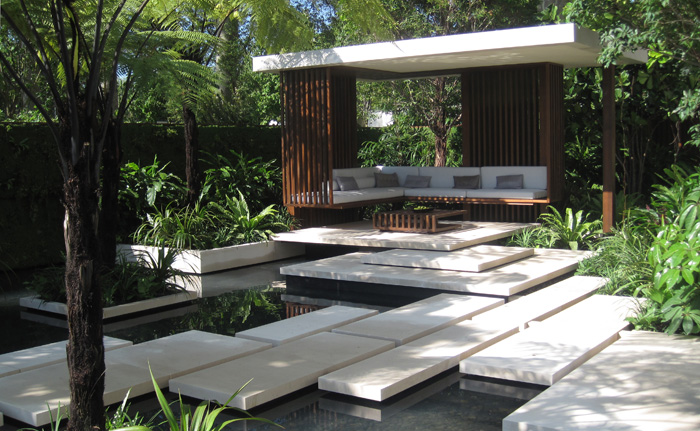 I loved David Cubero and James Wong's Malaysian garden (above). David, James and I were all Show Garden virgins at Hampton Court in 2008, and our gardens there were both project managed by Arun Landscapes. I've enjoyed watching their style develop since; all their gardens have featured bold landscaping over water, but this is by far their most accomplished work – simplifying the design to its core elements and with a great use of texture. There are no flowers here but it is nonetheless packed with interest and excitement.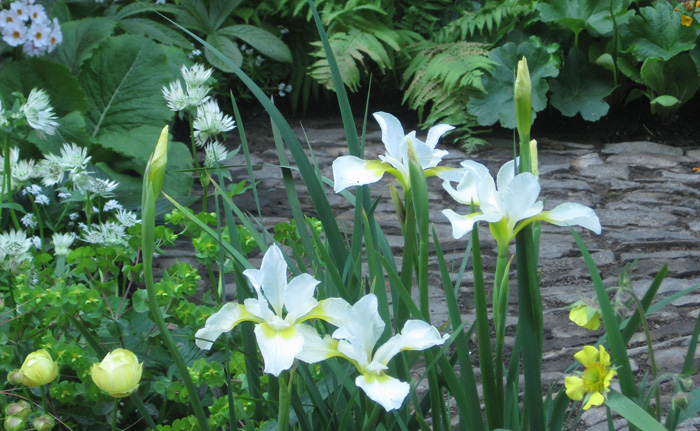 The Two Moors garden (above) is close to my heart as it features the landscape just a little west of me, namely Exmoor and Dartmoor. Recreations of regional geology and flora have been seen so often at Chelsea that they're in danger of being a cliche, or pastiche, but this garden was so well made, and the yellow and white colours of the planting was so soft and appealing, that it easily deserved its Best Courtyard Garden award.
I thought this little detail from the Pine and Conifer Enthusiasts Garden was charming –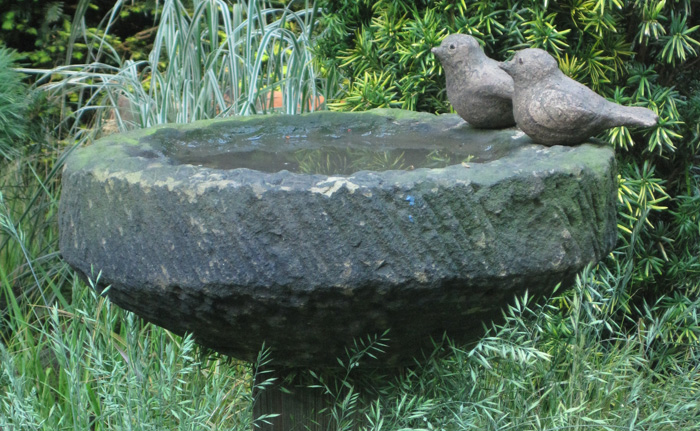 – it's also refreshing to see conifers, generally viewed as lacking in movement and seasonal variation, seen in such a contemporary setting, being set off, as you can see here, with Festuca grasses.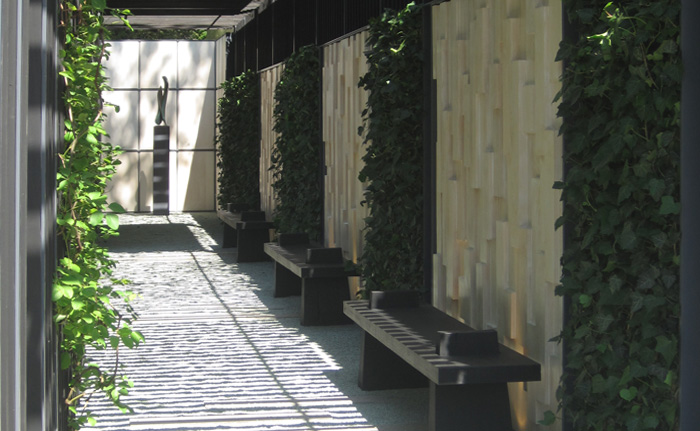 I'm in two minds about Robert Myers Cancer Research garden – partly perhaps because it felt like two separate gardens that didn't quite fit together. At the front was a simple woodland garden, a little bit fluffy, prettily planted. At the rear was a vast slatted canopy, reached by a 'cloister' (above), and planted with structural box cubes of different heights, which married with the differing surface levels of the pale stone of the cloister wall. What was good about it was the deliberate use of shadows created by the open structure – particularly in the cloister where the shadows were distorted by the gravel path. I would like to have seen a little more unity between these wonderful light capturing and very strong elements and the pretty surroundings – somehow they didn't quite fit together.
I'm ending my Chelsea thoughts on my favourite garden, Andy Sturgeon's contemporary and contemplative space created for the Daily Telegraph.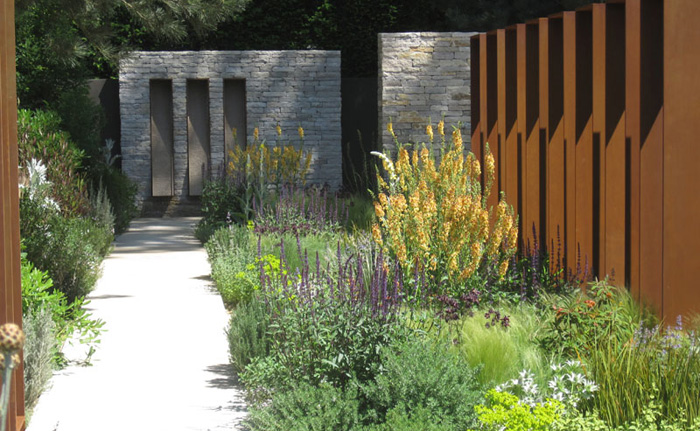 I really enjoy Andy's work because he always comes up with something unexpected – and that, to me, is what Chelsea should be all about. Corten steel, used for his columns, came to public notice in Tom Stuart Smith's 2006 Chelsea garden. It's a form of rusted metal, where the rust forms a protective coating – a wonderful material for a garden, giving an air of age, and enhancing the colours of the planting. Open columns give wonderful shadows, but are simple enough not to detract from the planting, or deflect the eye from the planting – but instead to gently enhance. A simple dark background around the garden keeps the focus firmly within, allowing the light colours of the planting to glow, and tall dry stone walls give the garden additional structure. This clever use of horizontals and verticals leads you in a slow progression through the garden, which has a perfect balance between quiet and busy space.